"South Texas has seen tremendous growth and increased opportunity thanks to the oil and natural gas industry, which is a trusted partner to our communities when it comes to economic development, community strength and environmental progress. It is an honor to have been selected for this position and I look forward to furthering my work with communities, leaders and residents in the Eagle Ford and the Rio Grande Valley as STEER continues to serve as a strong voice for the oil and natural gas industry in South Texas."
– Stephanie Moreno, STEER Executive Director
---
Stephanie Moreno
Executive Director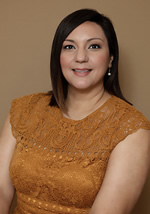 Stephanie Moreno is the Executive Director of the South Texas Energy & Economic Roundtable (STEER), joining the organization in January 2020. Stephanie is an experienced advocate and leader in South Texas, having served as Bee County Judge from May 2015 until her appointment to STEER. As County Judge, she was President of the South Texas Judges and Commissioners' Association.
Prior to her appointment to County Judge, Mrs. Moreno was an Assistant Attorney General in the Office of General Counsel to the Child Support Division under Greg Abbott. She is a licensed attorney in the State of Texas.
Mrs. Moreno is a 2001 graduate of A.C. Jones High School in Beeville, Texas. She attended Coastal Bend College and received a Bachelor of Arts in Mass Communication from Texas State University. She completed her doctorate of Juris Prudence in 2011 at Western New England University School of Law in Springfield, Massachusetts, where she was awarded the Ascending Alumni Award.
She is married to Brandon Moreno and has one son, Joshua.